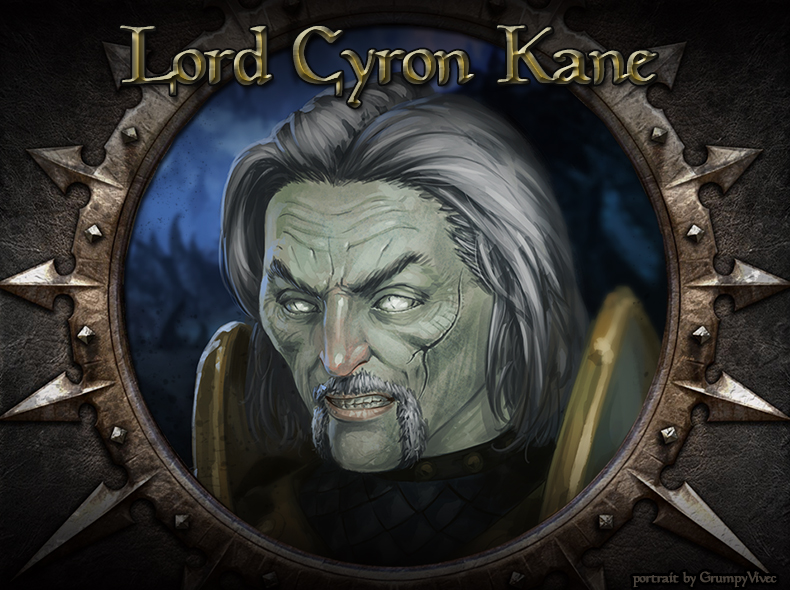 CyronData==================================.


Cyron Vesuvian Kane was a vampire knight and former Lord of the Kane, before his death and banishment to Coldharbor by a group of heroes, including three of his adult children,

Simeria

,

Silius

, and

Shoka

. Long before his fall to darkness, Cyron was a hero.

He was the second born son of Cyrienne Kane the White Lioness of Colovia and her husband Magnus Thorn the Crow Slayer. Kane was the erstwhile leader of the Companions of Many Colors, a fellowship of seven adventurers who embarked on various campaigns between 2E 552 and 557. He survived the destruction of Lionfall, during which the majority of the Kane were eradicated at the hands of the Reachmen and their Hlaalu conspirators. Kane enjoyed a brief period of prestige as a military commander during the ill-fated Aquilarios Regime, though his lands and titles were later stripped from him by the Tharns for treason.

Kane served as an advisor to the notorious pirate lord

Custis

aboard the Last Laugh until its capture at the hands of Breton slaver, Tristan Coppercroft. In 583, he reunited with

Reshka gra-Mobaz

and

Nagarue

to lead a new group of adventurers called the Bonesworn in defeating Sanatar the Rose Wizard once and for all.

A twisted shadow of Cyron Kane now dwells in Coldharbor in a vast manor from which he cannot leave. Rumors persist of his routine torment at the hands of Molag Bal's dedicated dremora that force him to observe his various failures in life through scrying glasses and spheres that hang and float throughout his manor. Often times, they show him the current triumphs of the adventurers that defeated him, though he cannot be certain whether or not what he sees is true.
NOTE: Names first mentioned in

green

indicate the names of player characters.