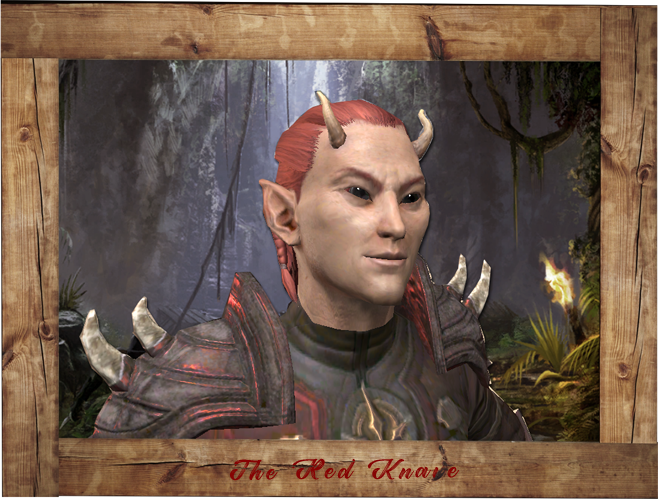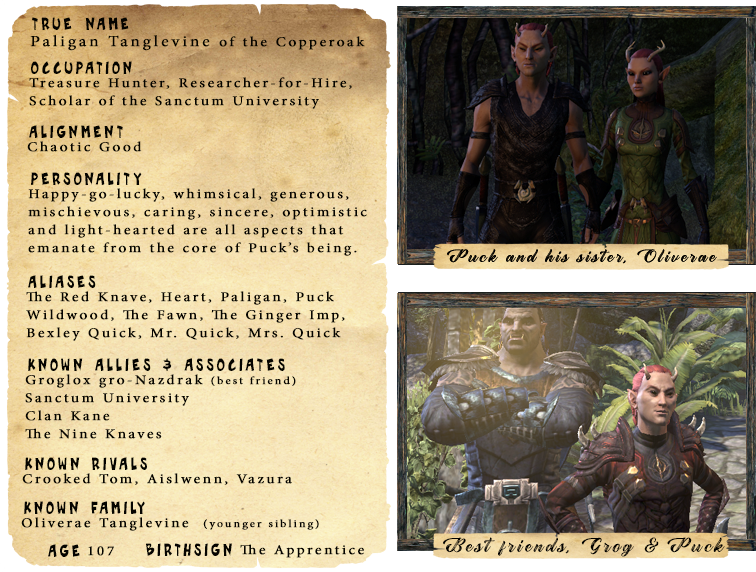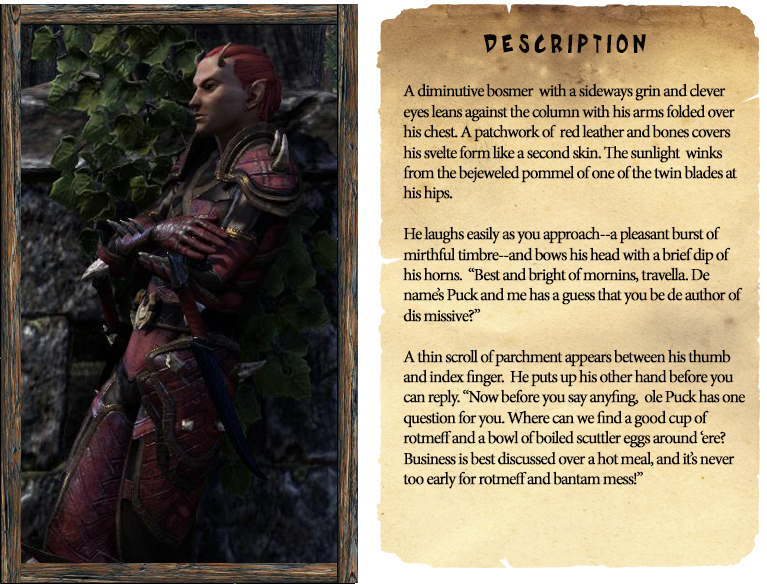 Offer A Job – Hunt Artifact/Treasure
Perhaps you're searching for a lost family heirloom or maybe you've long desired a bejeweled staff rumored to be languishing away in some Yokudan vault. Puck is an accomplished delver, trap-dancer, and locksmith with access to various libraries—and the one in his head is not too shabby either. Always up for a heist, Puck will usually lend his services for a reasonable fee—with or without his partner Groglox gro-Nazdrak. If additional muscle is needed, he strongly recommends his clients upgrade to the Grog package!
Puck has a soft-spot for underdogs, the downtrodden, and those attempting to claim long lost heirlooms that could return their people to a former glory. It is not unheard of for him to take such jobs at a reduced rate, on a payment plan, or for a keg of rotmeth as payment.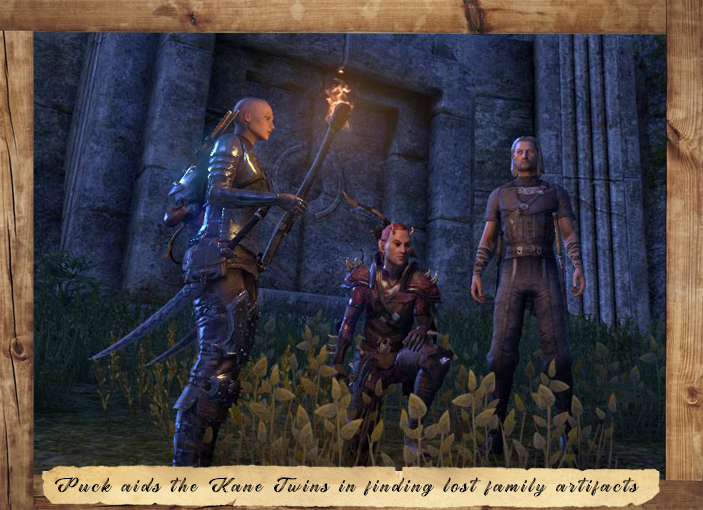 Offer A Job – Research Artifact
Maybe you already have an artifact and you're trying to learn what it was once used for, if there's any potential for it to be used again, or what makes the device tick. Puck is your mer for the job, for the right price of course.
insert classic Puck wink
Offer A Job - Lore
Perhaps it is not an artifact you are after, but long lost or hard to acquire lore. He has fetched many tomes in his day and bears the singed and scarred finger tips to prove it!
Offer A Job - Translator
Have something written in an ancient or unknown language that you just
have
to know what it says? Hire Puck! His translation fees are reasonable and he offers these services on a no-questions-asked basis—quite unlike those nosey twits at the Mages Guild.

Former Flame
Puck is not without his string of one-night-tavern-visits and has shared his bed with many a traveler, be them a maiden fair, a maiden not-so-fair, and even an orismer warrioress or two.
"Careful wiff dem tusks, love!"
And while his noggin is good for storing knowledge lifted from dusty old tomes and crumbling scrolls, he may have difficulty recalling all the names and faces he has tumbled under the linens with. And while many of these were mutually agreeable wrestlings-by-candlelight of a fleeting nature, some of these erstwhile companions may have been looking for a bit more of a consistent and deeper connection. This could have been complicated by the fact that Puck is not beyond a little misdirection or misrepresenting the truth prior to indulging in a bit of old fashioned bed-wrestling, especially when seducing the librarian's daughter or Mage's Guild acolyte will get him access to that tome he needs!
Relation to a Former Flame
Maybe you're the father, brother, or husband (let's pause while Puck spits out his rotmeth) of one of Puck's former bedfellows and you have a bone to pick with the diminutive mer.
DISCLAIMER:
This is not, let me repeat
not
, for the purposes of ERP but for fun character-driven roleplay that has nothing to do with portraying or acting out "bed-wrestling", as those things would have happened in the past and off-screen.


Puck still goes by the monicker of the Red Knave, a holdover from his time with the Nine Knaves: a travelling acting troupe that performed by day and committed heists by night. While the group is now defunct, we were last active circa 577, about nine years ago. Our goal is to have each of the knaves accounted for by a player character. So far, four of the knaves are accounted for by players, and there are still five—as of this posting—that we need to account for! Currently, the roles of the Red Knave, the Blue Knave, the Gold Knave, and the Violet Knave are accounted for. Remaining is the
White
,
Black
,
Orange
,
Yellow
, and
Green
Knaves.
If you are interested in having one of your characters having been one of the Nine Knaves, send me a pm inquiry and I can give you more information about who we were. And to spice things up, we were ultimately betrayed by one of our own, so we're looking for THAT knave as well!
NOTE:
It is not unheard of for knaves to begin their training as adolescents or children, so even if your character is currently in their mid twenties or currently an adolescent, it is still possible for your character to have been one of the Nine Knaves, keeping in mind that we fell apart nine years ago.

I am a big fan of getting together and doing stuff, what I call action-roleplay or story-roleplay. It's just too easy to come up with a reason why we need to go to X place and do Y thing, roleplaying all the while. I'm not talking about trying to accomplish in-game stuff, though that can certainly happen as a consequence. I'm talking about making up a fun reason to go to a random delve from a story perspective—as just one quick example. Add in a quickly rolled npc from an alt account that you dual-instance and bring into play later, and it gets even more fun! (I have alt accounts, so I can totally do this—and it's okay if you're not using alts—that's just an example of one way to spice things up in a mini rp-adventure.)
I find it difficult to be stimulated by tavern roleplay or sitting-around-talking-for-the-sake-of-talking roleplay, unless the stakes are high, there is some kind of tension, or there is some set reason as to why we are getting together. I also like relatively fast-paced roleplay, so if I have to wait 5+ minutes for a response from you, it's going to be difficult for me to stay immersed. Don't get me wrong. I totally understand that it is going to take 2-3 minutes sometimes to type a response, but when I roleplay I am all in. I don't alt tab and watch videos or read websites when I roleplay. When I roleplay, that is all I am doing. The scene and YOU have my undivided attention, so it would be great to get the same in return. After all, if it takes half an hour for two or three players to do introductions, then it's probably a bit too slow paced for me.
NOTE:
I am not saying there is anything wrong with slow-paced roleplay or alt tabbing during slow-paced roleplay. I am just saying that I don't particularly care for that very much and I would prefer more engaging and directly-paced roleplay so that I can stay immersed in the scene and our characters!