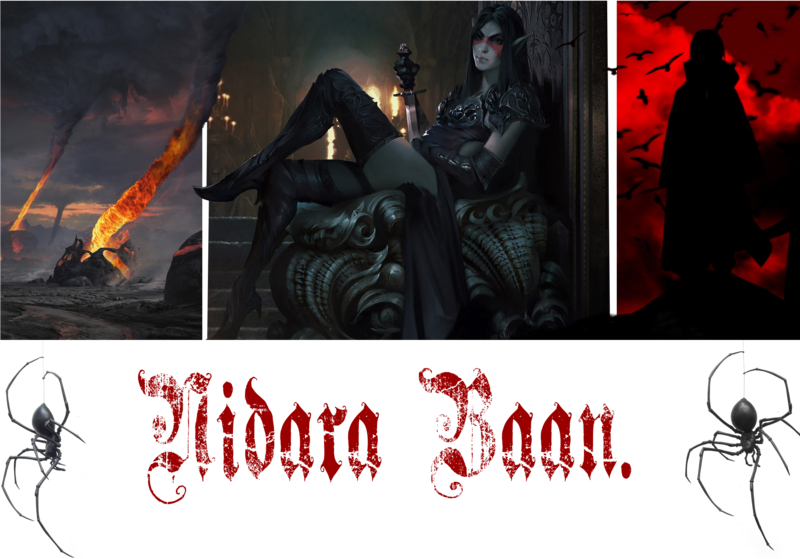 Work in progress.. will be updated when Nidara is more formally involved with the guild.
Recommended listening: ...
Name:

Nidara Alvor.

Alias:

Nidara Baan (Nidara Black).

date of birth:

2E 548, last seed.

Official occupation:

Retainer.

Faith:

Mixed view. Beothiah cultist.
(Homestead: @Ddera : Velothi Revere. Family home.)
House status:

Minor/Commoners.

House assets:

Average tobacco production.
(Homestead: @Ddera : Autumn's Gate. Tobacco facility.)

House affiliation:

Indoril.
What's public:
Alvor is a small family who has been in the tobacco business for a few generations. Their main income is earned through Morrowinds vast smoking traditions, mostly fabricating the sticky paste of sweet tobacco for hookah's.
Nidara's career have not exactly progressed at incredible rate, rather, it is just now she's stepping out into light and getting involved with the Great Houses of Morrowind...
Spoiler: Behind the curtains.
Show
House history:
A brief recollection of past events. (Under construction)
1
M
ost of many scattered survivors of a particular historical event, would never know true kindness commonly shown strangers. Stigmatisation was a curse that befell Alvor's first generation, when they had a different name, for reason they couldn't ever fathom. For secrecy is the way of dark elves, cherished even, knowledge kept sacred is sacred knowledge. The family's history is quite young. So young that in a ancient culture of elves, that put great significance into bloodline and heir, it's kept secretive to avoid ridicule and degradation.
2
U
nfortunately was there no apparent ancestry to venerate, no spirits of revered elders to pray for in sacred ancestral tomb, and no renown family name to make life simple. There was but a void of evidence, though that does not mean it doesn't exist, and a void is a measurable phenomenon.
"Absence of evidence is not evidence of absence"
3
R
iot is where the story begins: The family line can be traced back few generations to a single record in Ebonheart's guard office, speaking of a crime committed in the name of Alvor, by the most distant relative whom took the name. Before these events of killings, was she a taken in by the family at young age, and taught how to service. The crimes made it entirely more difficult for her offspring, and ex husband, to ever find much needed success in their lives.
4
D
uring the following centuries have the family been invisible, as terms of what's worthwhile safekeeping in memory. A small family without much fortune, working for better conditions. From working in fields to taking ownership of a small one. Their gratitude eternal, mostly praising their own hard work.
5
E
mergence from came slow with more coin filling the family's coffer. It took off with good flavour gracing tongue of consumers. One visitor meant another one, and the flavour of good tobacco was advertised by word of mouth. It was only a matter of time, before the small family no longer struggled to keep ash storms from pouring through their ceiling. They understood a house could be small and strong, when independent and evading grubby hands
6
R
ecovery was finally absolute at this point in time, decades after the violent division, just like Veloth's exodus had this small family cut their ties and made a different life. Most of the troubling history would the next child not be troubled by. Some secrets are meant to be kept, some are meant to be timely revealed for a greater purpose.
Hooks:
Tobacco for everyone:

Nidara can be hired to visit almost any location and tell about her products, let people sample it, while she service them by lighting their hookahs and pibes. This can be good for small social gatherings, or a soiree, as a form of entertainment, or larger parties as a 'tobacco waitress'. Feel free to forward her a letter.


,:




House Indoril:

...
Contact:
Account name: @Ddera
Discord: Ddera#1972
Homesteads:
Velothi Revere : Family home (Closed to public.)
Autumn's Gate : Tobacco industry (Open to public.)