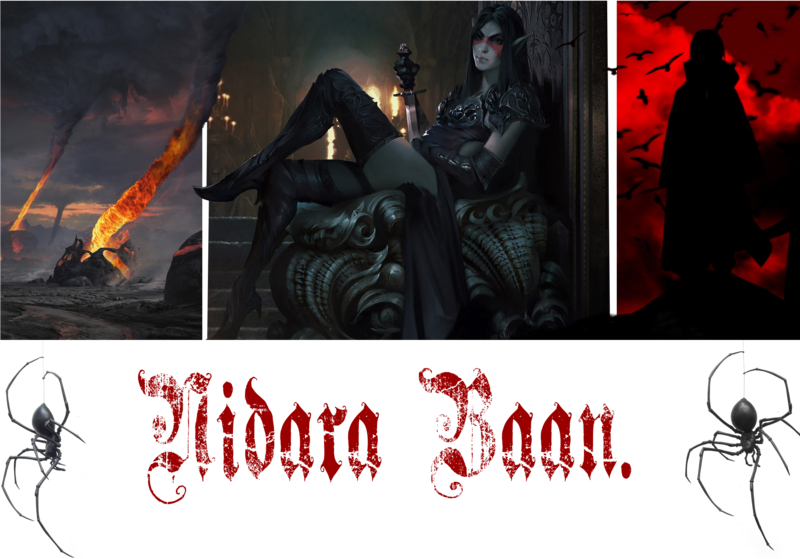 Work in progress.. will be updated when Nidara is more formally involved with the guild.
Recommended listening: ...
Name:

Nidara Alvor.

Alias:

Nidara Baan (Nidara Black).

date of birth:

2E 548, last seed.

Official occupation:

Merchant (Drug Baroness.)

Faith:

Mixed view. Beothiah cultist.
(Homestead: @Ddera : Velothi Revere. Family home.)
House status:

Minor/Commoners.

House assets:

Average tobacco production.
(Homestead: @Ddera : Autumn's Gate. Tobacco facility.)

House affiliation:

Redoran.
What's public:
Alvor is a small family who has been in the tobacco business for a few generations. Their main income is earned through Morrowinds vast smoking traditions, mostly fabricating the sticky paste of sweet tobacco for hookah's.
Nidara's career have not exactly progressed at incredible rate, rather, she mainly kept it intact to her best abiility, while she was more focused elsewhere.
Spoiler: Behind the curtains.
Show
House history:
A brief recollection of past events. (Under construction)
1
M
ost of many scattered survivors of a particular historical event, would never know true kindness or hospitality commonly strangers are shown. Stigmatisation was a curse that befell Alvor's first generation, when they had a different name, for reason they couldn't ever fathom. For the name a certain child was given, was one step in a plot to erase history. Secrecy is the way of dark elves, cherished even, and knowledge kept sacred can seem almost ritualistic behaviour. There was but a void of evidence. Though that does not mean evidence didn't exist, and a void is a measurable phenomenon.
"Absence of evidence is not evidence of absence"
This "first ancestor" would eventually become an adult and come to realize, that they themself was evidence of such tampering with history, and just how risky it was to search knowledge
2
U
nfortunatelywas there no apparent ancestry to venerate, no spirits of revered elders to pray for in sacred ancestral tomb, and no renown family name to make life simple. The family's history is quite young - So young that in a ancient culture of elves, that live long lives and make a great deal of bloodline and heir, it felt necessary to keep that secretive to avoid ridicule and degradation. The lack of ancestry naturally only made sense, because any tomb there might have been was forgotten, and likely buried under rubbles, and the "first" Alvor's choice to disassociate with adoptive family.
3
R
ioting is where the story begins: The family line can be traced back few generations to a single record in Ebonheart's guard office, mentioning of a crime committed in the name of Alvor, by the most distant relative who originally claimed the name. It describes a violent in-house struggle, caused by a undisciplined low ranked house staff.
4
D
uring the following centuries have the family been largely invisible, in terms of what's worthwhile mentioning. A small family without much fortune, working for better conditions. From working in fields to taking ownership of a small one. Their gratitude is eternal, mostly praising their own hard work.
5
E
mergence as a family came slow, with more coin filling the family coffer. It took off with good flavoured tobacco gracing tongue of countless consumers. One visitor meant another one, and the tobacco was advertised by word of mouth. It was only a matter of time, before the small family no longer struggled to keep ash storms from pouring through their ceiling.
6
R
ecovery was finally absolute at this point in time, decades after the violent division. Just like Veloth's exodus had this small family cut their ties and made a different life. Most of the troubling history would not be of consequence for later generations, until it was time to ceremonially pass on treasured secrets . Some secrets are meant to be kept, some are meant to be timely revealed for a greater purpose.
Torn from the popular belief of dunmer society, this family was a easy target for fanatics, and being exposed would in many cases have fatal consequences. They're a remnant of the past, of the war against Sixth House, which left orphans scattered between many new families. The rest was destroyed to cover up these events, and it's likely because of fear that it wasn't entirely buried. Alvor's right to exist was claimed through same gruesome acts, that the Three used to gain their status. It seems the family has a tendency of dying relatively young in skirmishes.
Hooks:
Tobacco for everyone:

Nidara can be hired to visit almost any location and tell about her products, let people sample it, while she service them by lighting their hookahs and pibes. This can be good for small social gatherings, or a soiree, as a form of entertainment, or larger parties as a 'tobacco waitress'. Feel free to forward her a letter.


: ...




Contact:
Account name: @Ddera
Discord: Ddera#1972
Homesteads:
Velothi Revere : Family home (Closed to public.)
Autumn's Gate : Tobacco industry (Open to public.)