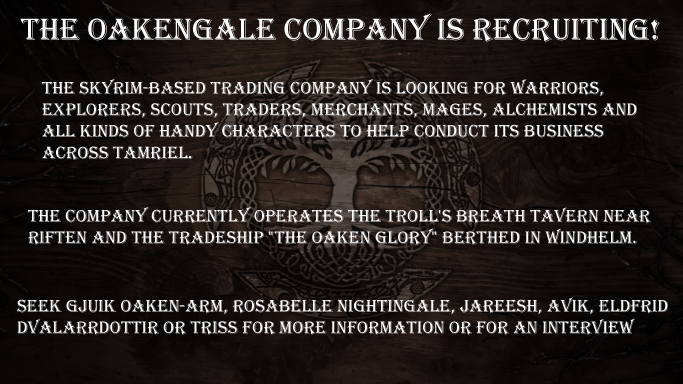 The Oakengale Company is a Heavy-Roleplay guild looking for new members!
We are a neutral guild based in Skyrim but accepting all races, factions and backgrounds. We are very active and are always looking for new recruits to help us grow!
All of our four branches are looking to bolster their ranks:
Oaken-Swords (Warriors)
Oaken-Striders (Scouts, Explorers and Sailors)
Oaken-Masons (Traders and Crafters)
Oaken-Scholars (Mages, Alchemists, etc)
We offer almost daily casual RP at our tavern and Hall, regular storylines and events, a discord server for out of game RP, communication, and general goofing around and a generally easygoing attitude.
We use our own character sheet and dice rolling system (through Discord), which is mandatory for RP events and RP involving combat and ability use.
Our rules are few, and mostly common sense. Still:
-Do not godmode or meta-game
-Do not break Lore (we realize mistakes happen and not everyone's a loremaster, but do make an effort to make your character believable)
-Do not cause drama
-Lycanthrope (Werewolves) and Vampire characters are allowed but are expected to remain covert. The same goes for assassins, criminals, deadra worshippers and other characters who would normally not want authorities taking an interest in them.
-Respect and follow the lead of your Officers (IC and OOC)
-Expect that IC actions bring IC consequences
If interested, PM any of our officers!
The Oakengale Council:
The Oakengale Trinity:
Gjuik Oaken-Arm (@moojster)
Rosabelle Nightingale (@iananddusty)
Jareesh (@Leggs910)
The Branch Leads:
Oaken-Swords : Eldfrid Dvalarrdottír (@cyberjarl)
Oaken-Masons: Avik (@Fade_arden)
Oaken-Scholars: Triss (@riveroftheponds)